CJ Anderson Waived; Paul Perkins Claimed
Sep 17 5:34 PM
The Lions waived CJ Anderson, and claimed Paul Perkins.
---
Daniel Jones To Start
Sep 17 11:35 AM
Daniel Jones will start week 3 vs. Tampa Bay.
---
BREAKING NEWS - Ben Roethlisberger Out For The Year
Sep 16 11:56 AM
Roethlisberger will undergo surgery and be out for the season.
---
BREAKING NEWS - Drew Brees Out Roughly 6 Weeks
Sep 16 11:55 AM
Drew Brees will have surgery and be out roughly 6 weeks.
---
FOLLOW US ON TWITTER - THAT'S where the breaking news is!
Sep 11 3:16 PM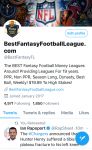 In season we are going to post almost all of our breaking news and statistics on Twitter, follow us on there if you are not currently - @BestFantasyFL
---
Derrius Guice To Miss Some Time?
Sep 09 12:41 PM
Sources: #Redskins RB Derrius Guice had an MRI this morning on the other, non-ACL knee and he's likely to miss some time. The hope is he does not need surgery, but the team is doing a full evaluation. He gained 18 yards on 10 carries, looking like he wasn't himself. - per Ian Rappa
---
Annnnnnddddd - Antonio Brown Signs One Year Deal With Patriots
Sep 07 5:15 PM
1 year deal worth up to $15M, that includes a $9 signing bonus.
---
Annnddddddd - The Raiders Have Released Antonio Brown.
Sep 07 12:00 PM
There it is.
---
Antonio Brown to be suspended by Raiders?
Sep 05 12:36 PM
Per Adam Schefter - The Next Chapter: Antonio Brown and GM Mike Mayock got into it Wednesday, and the team is now planning to suspend its star wide receiver, league sources tell ESPN.
---
Zeke Signs
Sep 04 11:51 AM
We'll put this up here JUST in case you have been under a rock today - The #Cowboys & RB Ezekiel Elliott agree on a 6-year, $90M extension that makes him the highest-paid RB in the NFL, sources tell me and @SlaterNFL. Roughly half guaranteed. In all, it's $103M over 8 years—the 1st Cowboy to eclipse $100M in total value, the richest RB contract.
---
Kenyan Drake to see a lot of work?
Sep 04 11:13 AM
"Kenyan Drake is as talented as anybody on our team. We are looking forward to getting him a lot of touches this week." - Brian Flores.
---
Michael Crabtree starting in Arizona?
Sep 03 8:07 PM
No huge surprises on the first @AZCardinals depth chart released for the regular season. Michael Crabtree listed as starting WR along with Christian Kirk and Fitz. Byron Murphy listed as starting CB with Tramaine Brock. Kirk listed as PR, Andy Isabella listed as KOR - per Darren Urban.
---
Dante Pettis listed as starter
Sep 03 4:48 PM
Dante Pettis and Marquise Goodwin to Start at WR, per RotoGrinders.
---
DK Metcalf Week 1 Starter
Sep 03 3:55 PM
DK Metcalf is listed as a Week 1 starter for the Seahawks, per Joe Fann.
---
Redskins offense carry wise to go through Guice?
Sep 03 1:55 PM
ICYMI Jay Gruden on Derrius Guice: "The offense, carries-wise, will probably go through him, pretty much."
---
The Colts commit to Jacoby Brissett
Sep 02 5:27 PM
Per Ian Rappaport - #Colts and QB Jacoby Brissett have agreed to terms on a 2-year extension worth $30M, source said. He gets $20M guaranteed at signing. Some security for the new Indy starter.
---
Melvin Gordon Won't Report For Week 1
Sep 02 2:33 PM
Far from shocking news here at this point, but ESPN's Jeremy Fowler reports Melvin Gordon does not plan to report for week 1.
---
Derrius Guice to get more carries than AP
Sep 02 2:13 PM
Coach Jay Gruden told reporters Monday that Derrius Guice will get more carries than Adrian Peterson.
---
McCoy and Damien Williams costarters?
Sep 02 1:24 PM
Reid says he considers both Damien Williams and McCoy to be starters. "its a great situation for both them and the football team."
---
Cam newton good to go for week one
Sep 02 12:55 PM
GM Marty Hurney declared Newton "good to go" for the team's opener Sunday Sunday versus the Rams.
---
| | |
| --- | --- |
| Total 254 posts | Page of 13 Prev | Next |